HEAVY PROCESS MACHINERY STORAGE CONTAINER CASE STUDY
We received an enquiry from an environmental company based in Yorkshire, who required a solution for the storage and shipping of heavy process machinery. We took a new 40ft container and carried out the conversion in just over a month. We installed bespoke electrics which included four 5' twin anti corrosive lights, two 13A twin metal clad sockets, a 20 SP air conditioner isolator, an MCB distribution board, and a 32A 5 pin mains appliance inlet.
We lined and insulation the container using 15mm melamine faced board, which was fitted onto 500 tanalised timber studding. Rockwool insulation was pinned and compressed into the cavities between the board and shell, to the walls and cargo doors. The same process was carried out on the ceiling, but with 3mm MFC. We also supplied and fitted a 4.5mm aluminium durbar floor, which was welded into the container structure, over the existing floor.
We installed two wall mounted 4.2KW Hi-Wall Libero S Indoor units, and two 5.2KW inverter outdoor units. These units were externally covered with a grate, so as to prevent sand ingress.
Our client required the container to be visually appealing, so we removed the original decals and CSC Plate. primed any bare steel or weld marks, and prepared and masked the door bars and seals. We then painted the container in RAL9010 with self-priming specialist container paint, applied new black decals and refitted the CSC Plate. Because the container was required for shipping, the CSC plate was updated with a minimum 1 year validity. The container roof was painted with solar reflective paint, so as to reduce heat gain.
If you would like to discuss a project or an idea with us, please call 0333 600 6260 or click to complete a Quick Quote form below.
Leeds Container Quick Quote >>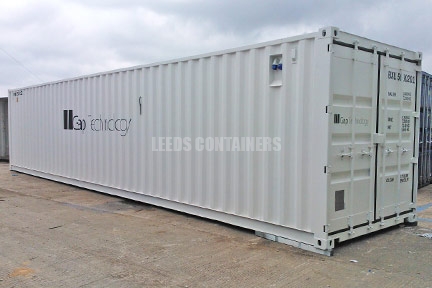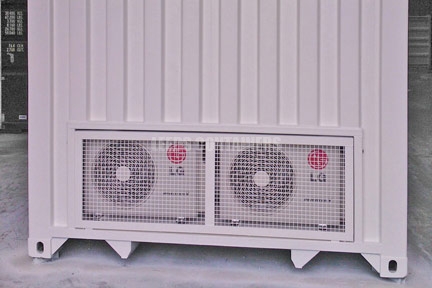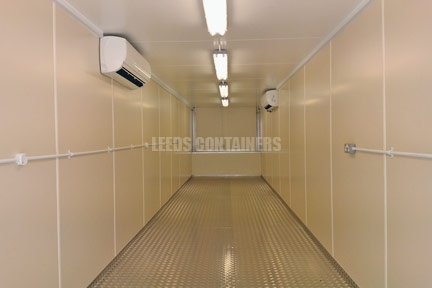 MODIFICATION TESTIMONIALS
---
20FT NEW CONTAINERS (P.E SCHOOL STORAGE)
★★★★★
"
Thank you, the container is in perfect condition and the delivery driver was very helpful and skilled. We gave him a cross to aim for as the front corner and he got it spot on!
"
20FT SIDE OPENING CONTAINERS (ELECTRICAL COMPANY)
★★★★★
"
The side opener is perfect for what we need, it has easy access, plenty of room and looks great. Thank you to your delivery driver also.
"
SITE DRYING ROOM CONTAINERS (WASTE COAL COMPANY)
★★★★★
"
Thank you for delivery of unit earlier today, all seems to be ok no reports of any issues. Many thanks for all your help and efficiency from start to finish on this job, very much appreciated.
"